Impressive technology, local products, services connected with the community Company Technical Visit Useful for On-the-Job Training
Hamamatsu and the Lake Hamana area is home to world-class companies like Suzuki, Yamaha, Honda, Kawai, Roland, Hamamatsu Photonics, and many more.Starting from the textile industry in the Edo period, this rare industrial center has attracted medium, small, and venture companies that are pioneers of cutting-edge technologies in Japan, such as manufacturers of vehicles like cars and bikes, musical instruments, and optical equipment.Additionally, the bountiful land that includes the sea, lake, river, and mountain as well as the warm climate has also cultivated other industries like agriculture, food, tourism, and services.
Theme
Improvement of Working Conditions & Sustainable Development Goals & Human Resource Development
Business Management
Branding & Marketing
Photonics Industry&AI & Innovation
Disaster Management & Education
Agriculture & Food &Innovation
Craftsmanship & Manufacturing & Vehicles
Textiles
Musical Instruments
Project Management
Energy
List of Companies
Company Name
Theme
Enegene Co.,Ltd.
Branding / Sustainable Development Goals / Media Promotion / Human Resource Development / Improvement of Office・Working Environments / Disaster Management / Energy / LP Gas Refilling Demotuit
HP
Tokiwa Kogyo Co.,Ltd.
SDGs / Carbon Emission Reduction / ZEB (Net Zero Energy Building) / Work-Style Reforms / Value Creation Office / Project Management
HP
Somic Ishikawa Inc.
Toyota Production System / Production Streamlining / Human Resource Development / Sustainable Company Management
HP
The Graduate School for the Creation of New Photonics Industries
Photonics Technology / Management / Nurturing Entrepreneurs & Industrialists
HP
OISCA Hamamatsu Kokusai High School
OISCA SDGs Manifesto / Mini World Manifesto / Regional Cooperation Manifesto
HP
Kyomaru-en Co.,Ltd.
Universal Agriculture / Integration of Agriculture and Welfare / Employment of Persons With Disabilities / Agribusiness
HP
❶ Mikkabi Agricultural Cooperative
❷ Goto Citrus Farm
Business efficiency / Branding / Agricultural Products / Agricultural Innovation
HP
Torii Foods Inc.
Small batch condiment development /Manufaturing / Product Development / Marketing
HP
Hotel Wellseason Hamanako
Hotel Wellseason Hamanako's Hospitality
HP
Kyorindo Pharmacy Co.,Ltd.
Corporate Management / Branding Marketing / CSR / Human Resource Development / Disaster Prevention / and Education
HP
Experience Traditional Culture
Tour facility
| Facility Name | |
| --- | --- |
| Yamaha Innovation Road  | Sakichi Toyoda Memorial House |
| Yamaha piano factory tour | Unagipie Factory |
| Yamaha Motor Communication Plaza | Hamamatsu Science Museum |
For everything from Inquiries, Bookings, to Assistance on the day of visit!
Reservation deadlines differ depending on the host company (from 7 days in advance to 60). Please click on the pamphlet link above for details.
1

Fill out application form

Choose your desired theme and write any special requests in the form homepage.
2

Quotation

We will send you the itinerary & quotation based on your length of stay
3

Booking Complete

Once the itinerary & price is confirmed, we will send you a confirmation for the completed booking.
The duration for 1 company visit is 2–3 hours (visiting 2–3 locations in 1 day)
The tour fee varies depending on the facility you visit.
Allplans with English interpreter.
ブラジアツアーズ (静岡県知事旅行業第3-550号)
株式会社mocha-chai(静岡県知事登録旅行サービス手配業第34号)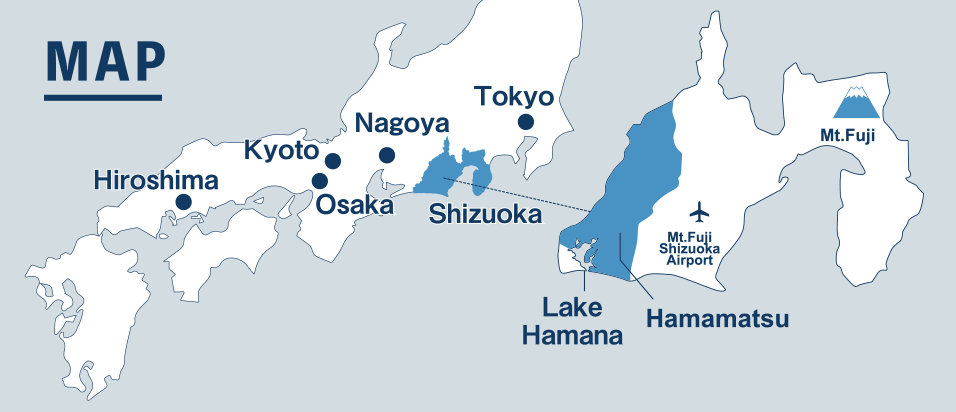 Access
JR Tokaido Shinkansen Line
| | | | | |
| --- | --- | --- | --- | --- |
| Tokyo | Hikari | …approx. 82min / | Kodama | …approx. 112min |
| Nagoya | Hikari | …approx. 31min / | Kodama | …approx. 43min |
| Osaka | Hikari | …approx. 70min / | Kodama | …approx. 43min |
Car
| | | | |
| --- | --- | --- | --- |
| Tokyo | 230km | approx. 2h 40min | (Tokyo I.C.〜 Hamamatsu I.C.) |
| Nagoya | 95km | approx. 70min | (Nagoya I.C 〜 Hamamatsu I.C.) |
| Osaka | 250km | approx. 3h 30min | (Toyonaka I.C.〜 Hamamatsu I.C.) |